Access・Map
Getting to the Faculty of Engineering, Kagoshima University
There are various ways to get to the Faculty of Engineering. Please refer to the Maps and Directions below.
【From Kagoshima Airport to JR Kagoshima Chuo Station】
By Airport shuttle bus:
Approx. 50 minutes, 1,200 yen
By Taxi:
Approx. 40 minutes, 11,000 yen (incl. Toll)
【From JR Kagoshima Chuo Station to the Faculty of Engineering, Kagoshima University】
By Tram:
Approx. 10 minutes, 160 yen, get off at Kogakubu-mae or Toso
By Taxi:
Approx. 5 minutes, 750 yen
Walking:
Walking takes about 25 minutes.
When taking a taxi, please make sure to mention "Korimoto Campus" in order to avoid confusion between the Faculty of Fisheries (Shimoarata Campus) and the Faculty of Medicine (Sakuragaoka Campus).
【Approximate time required from principal cities to Kagoshima city (by Air)】
Sapporo:
3 hours and 45 minutes
Tokyo:
1 hour and 50 minutes
Nagoya:
1 hour and 15 minutes
Osaka:
1 hour and 10 minutes
Fukuoka:
45 minutes
Okinawa:
1 hour and 20 minutes
【Approximate time required from principal cities to Kagoshima city (by JR)】
Osaka:
3 hours and 45 minutes
Fukuoka:
1 hours and 20 minutes
Kumamoto:
45 minutes
Miyazaki:
2 hours and 10 minutes
Google Map
Map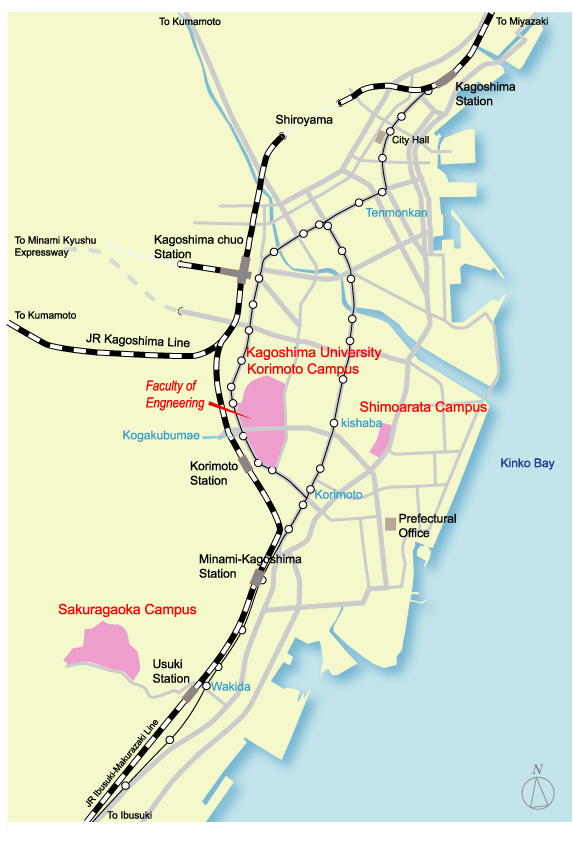 (1),(6) Applied Chemistry and Chemical Engineering
(2),(3) Mechanical Engineering
(4) Information and Computer Science
(5) Ocean Civil Engineering
(7) Architecture and Architectural Engineering
(8) Electrical and Electronics Engineering,Bioengineering